Digital Services for Consular Corps
If you are a recognized Consular Corps and are in need of an online platform to support your activities, we may be able to help.
What you may receive
You can receive your own customizable website for your jurisdiction, where you can showcase information about your Corps, your officers, a countries listing, links, and other material. You can also post news and events on the website.
The website comes with an internet address on the consularcorps.info domain (example: http://minnesota.consularcorps.info) to promote it and to share it with all the relevant agencies in your jurisdiction. Protect your privacy by obtaining a matching forwarding email address (example: your-jurisdiction-name@consularcorps.info).
Part of the platform is a private dashboard that is only accessible to your Corps members. It allows you to post important information and announcements to just your group. Announcements are accompanied by email notifications to function like a distribution group.
A designated member that you appoint can control all aspects via an administration panel. Your members create and maintain their own user accounts and update their own contact information and preferences.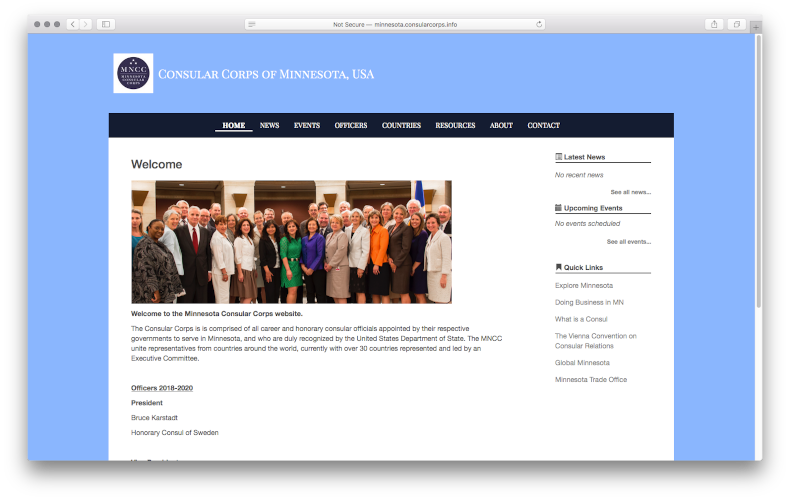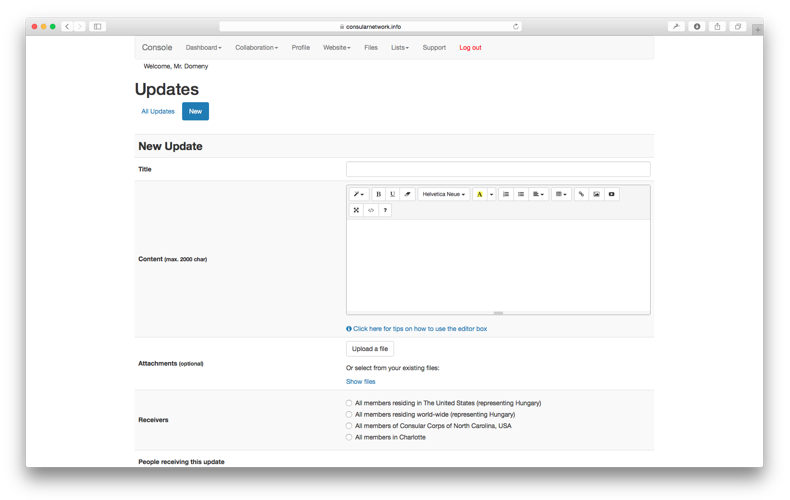 Cost
The use of this platform is currently free of charge.
Requirement for obtaining services
To be granted use of these services, we require the official chief of protocol of your jurisdiction to acknowledge the legitimacy of your Consular Corps.
How to proceed
Please contact us and supply the following information:
Mention your intent to obtain digital services for your Consular Corps.
Kindly include:
Your jurisdiction
Your role in the Corps and your contact details
The name and contact details of the relevant chief of protocol
We would appreciate the inclusion of your current country listing.
After your approval
Once your account is created, we will provide guidance on how to add content to your online environment.